The challenge
A U.S Federal Agency has seen great success from one of its premier development programs, which is designed to ensure all future workforce requirements can be met.
The program sees people come into the department at entry level, and then go through an intensive three-year developmental experience which involves professional certification, rotations, leadership development and more. Beyond developing the foundational skills they need to do their jobs, the aim is also for participants to feel a connection and pride in the organization and its mission.
To ensure the program maintains its popularity and continues to grow, the team behind it wanted to use design thinking to engage current and past participants in generating new ideas.
"What I really love about design thinking is that at each stage it makes you dig deeper, and get to the real story, which is often the most powerful thing,"
— Lauren Engle, Deputy Director
The approach
Working with Dr Judith Cardenas at innovation consultancy , the team wanted to explore how they could continue to upgrade people's experience of the program.
To inform the subjects of their sprints, the team ran a survey asking people currently on the program and those who have already graduated which elements they found most and least beneficial.
The team noticed trends in the responses they received, with the onboarding process and rotations standing out as areas for improvement. They then used these findings to inform How might we…? questions to explore.
The COVID-19 crisis began during this project, so Dr Cardenas introduced them to Sprintbase to take their efforts online. This also affected the focus of their sprints, as they were no longer just considering how to improve the onboarding or rotation process as they'd previously known it, but how to do it virtually.
"When the pandemic began, there were so many communication tools available, but what we lacked was a real collaboration tool. People were really excited to be involved and by Sprintbase, and the ideas came faster and faster. People that were notorious introverts all of a sudden did the most participation in the group,"
— Lauren Engle, Deputy Director
Each sprint they ran during the eight month period involved five teams of eight people who spoke to past and current program participants to seek their views and involve them in generating ideas and creating prototypes.
The team did a call-out for people to take part and explained that they wanted to hear people's ideas and that the top ones would be presented to the organization's leadership team. They engaged people across different career fields and age groups throughout the U.S to ensure a strong variety of voices and experiences.
Key to the success of this process was clear communication with participants' management throughout so that everybody understood the purpose of the work, the time requirement, the findings, and the ideas generated.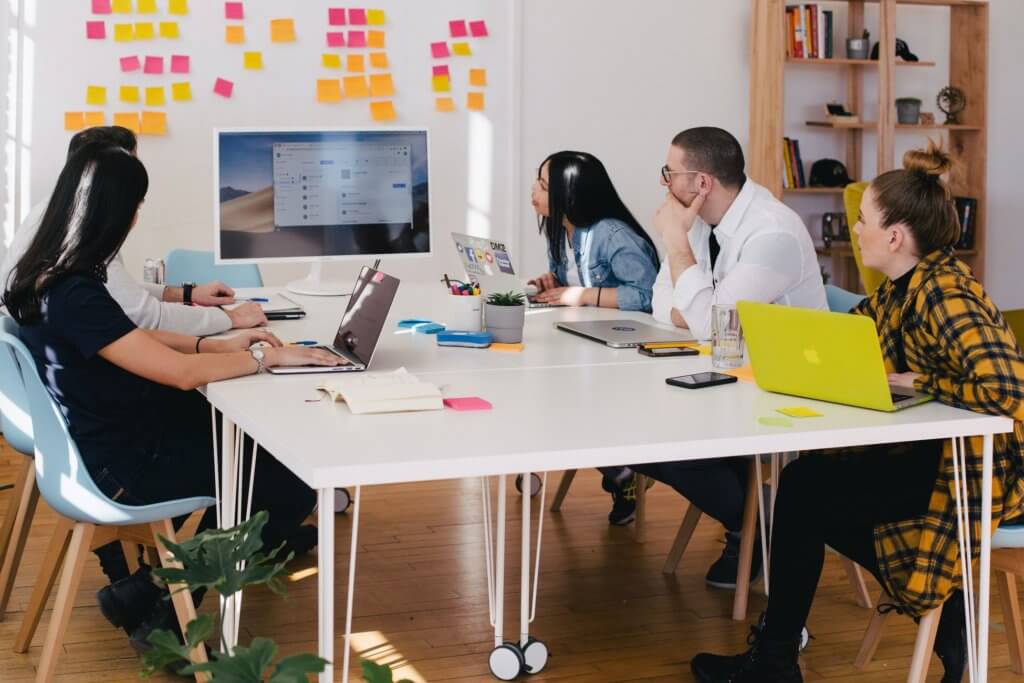 What they found
During the empathy gathering stage, the word 'connection' came up frequently. The team learned that one of the main things people on the program want is to have regular touch points at each stage of the journey – with their supervisors, mentors, and other people on the program. People shared that they want to build a community and have people to talk to about everyday things, as well as their careers.
"It's so easy when we're all focused on metrics and numbers to forget about the people delivering the work and the things that would make their experience better. This got us thinking about how we can help build the experience people want before they even step through our doors, through onboarding.
"We considered – How do we connect people who are working at home, new to a job and the organisation, to their teammates? It's these little things that shape a culture,"
— Lauren Engle, Deputy Director
Outcomes
The sprints led to a series of great ideas, which were prototyped and tested with program participants and graduates.
As a result of this work, the program team has put a number of changes in place:
They've changed the communications process with participants – providing contact points at key stages before and during the program.
They're designing a call-out to find mentors, to enable participants to learn from other people in the organization.
They're developing an FAQ to help people better understand their roles and the wider organization.
The team shares the benefits of using design thinking and Sprintbase for this project
Breaking down barriers – Sprintbase and the design thinking process really helped us make everybody's voices heard and get out of the habit of defaulting to senior leadership for direction. Using the platform meant we focused on what an idea said, rather than the person behind it, which was refreshing for people.
Deeper understanding of experiences – Starting off with a survey was great to find out the themes to explore, but it was the empathy gathering part of the design thinking process that helped us understand what people really wanted and why.
Introverts unleashed – Being able to share their views and ideas online meant that people who might otherwise have been shy to come forward felt able to speak up, so we benefited from their experiences more than we might have otherwise.
Maintaining momentum: People found using Sprintbase exciting and loved getting responses to things they posted, and being able to respond to ideas. It helped keep the momentum going.
Generating rapid ideas – Most people here are used to being focused on execution rather than coming up with solutions, so being asked to generate rapid ideas – and the more the better – was a very new concept for people, especially those at entry level. You could see their discomfort at first, but then it gained speed. It was empowering to be asked to produce real solutions and prototype them.