Businesses come up against a whole host of challenges, but they don't necessarily have loads of time – or the resources required – to dedicate long periods to resolving them. Over the years we've learnt that the length of time organizations want to bring people together for virtual innovation workshops varies hugely – from a few hours to a a couple of days to several weeks.
But how do you run a short remote design thinking workshop that still packs a punch, engages participants, and leaves them with lasting knowledge and skills?
Take a look at our top tips for running fun, interactive short workshops (which could be anything from two hours to half a day).
Keep the content sharp and punchy
To keep people engaged, you've got to make sure you get to the point with every item you cover quickly and succinctly. Spend up to three minutes on each piece of content, deliver easily digestible points, share strong visuals, and keep things moving.
Keep it simple
You don't want your audience to feel overwhelmed, you want them to feel focused, calm and clear about what you're talking about and asking of them. For this reason, when we run a shorter workshop we strip Sprintbase right back, working only with the tools and content that is entirely relevant to the session.
Communicate instructions everywhere
When you've only got people for a short period, it's more important than ever that everybody knows exactly what you're asking of them. So make sure you communicate any tasks you set really clearly. Put instructions in slides, on break-out white boards, broadcast them through zoom – you really can't over-communicate these things.
Do a mix of small group and plenary work
Mix up the format to keep people's attention and to help the group progress. Split people up into small groups to tackle particular tasks or to brainstorm ideas, and then bring everybody back together to share progress and feedback. A mix of formats will give the session a great pace, and keep teams on their toes.
Show people what they've achieved
Some people might be wondering how much it's really possible to get done in just a few hours, so make sure you show them how far they've come. At the end of the workshop, share the output the team has created so that they can see just how much they've achieved together and reflect on what they've learned.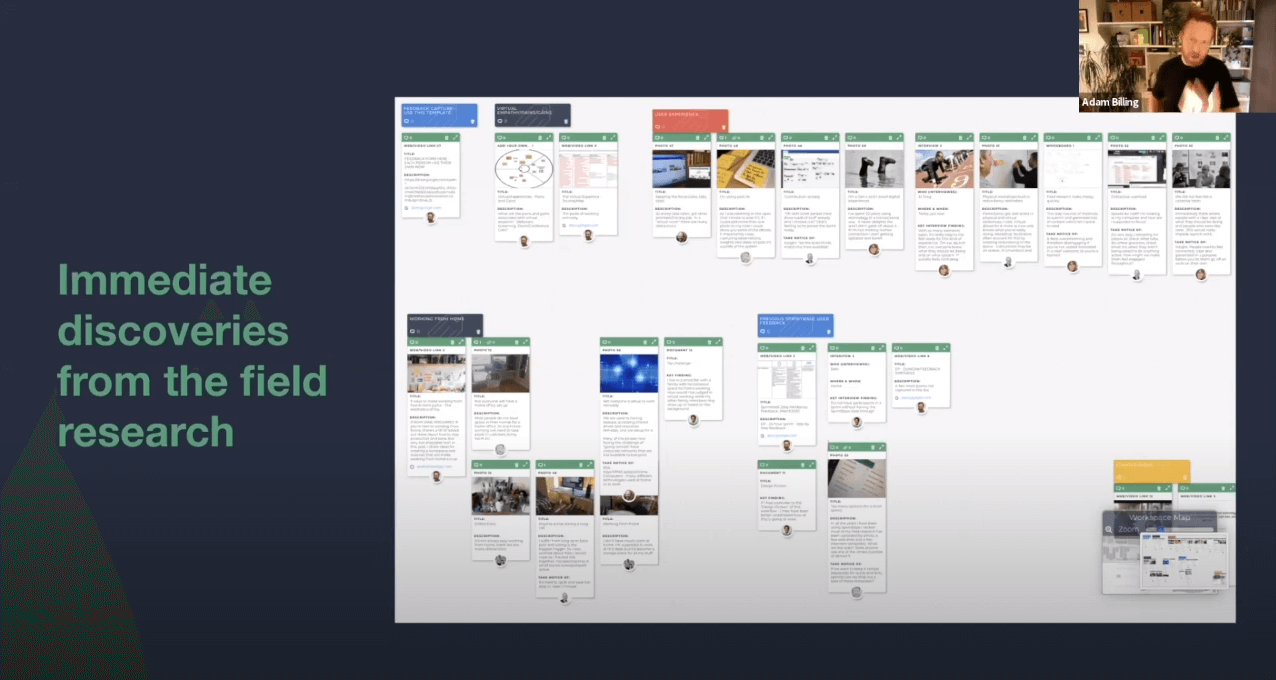 Remember: Nobody is more important than your session producer
This individual has a vital role – they're responsible for everything that keeps workshops flowing. From putting people into teams, to managing break-out rooms, routing tech requests, making sure videos play, bringing people back to plenaries – your producer keeps everything going and helps make the entire process appear seamless.